Reviews index

---
Thursday 25th 2010
1000 Years of Britpop
On Thursday 25 March we were treated to a fascinating and quite astonishing concept: a survey of British popular music over the ages, ranging from the 12th century melodies of Saint Godric of Finchale to modern classics by the Beatles and Jethro Tull. But this was not only a survey, as songs from different periods were juxtaposed for contrast, with 16th/17th century songs of John Dowland, for example, running directly into modern classics by rock band "Yes". This was a potpourri of music written in the English language (not only modern English, but Middle English as well!), by and large written in England by English musicians (Händel was English, of course!). Both this innovate mix and the talented and accomplished presentation by Kristina Cosumano (Vocals) and Hanno Winder (Guitar) were savoured by the audience.
The first half of the concert made it all the way from Medieval music of St. Godric and the traditional Middle English piece "Sumer is icumen in", via the music of Dowland, Yes, and Henry Purcell, to an overview of music by the Beatles. The last of these was wonderfully done. Rather than only playing a few well-known Lennon/McCartney songs, they really surveyed all 4 Beatles - playing George Harrison's "Beware of Darkness" and Ringo Starr's "Octopus' Garden". The second half then began with "Jerusalem" - the hymn now so deeply rooted in English popular culture (the previous time I had heard it played was at Twickenham) - and proceeded through the music of Peter Gabriel, John Duarte, Benjamin Britten, and Ralph Vaughan Williams. The concert then finished with the music of Ian Scott Anderson (Jethro Tull), interspersed with Händel's Harmonious Blacksmith and more Dowland.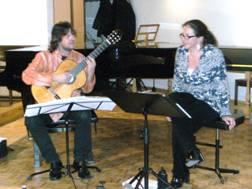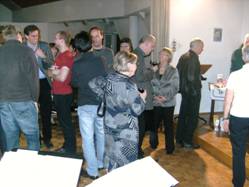 I left the concert admiring not just the impressive musical performance by Kristina Cosumano and Hanno Winder, as they worked through such a wide range of musical styles (and genres!), but perhaps even more so, the fascinating idea creating such an enjoyable potpourri. It was like watching a cultural history of Britain captured in popular music.
Andrew Daley
---

We are starting our

Winter Season

on

10th September