Reviews index

January 25th, 2012
Burns Night

People passing by the Goldener Löwe in the centre of Hall on the evening of 25th January this year might have been surprised to hear some very un-Tyrolean sounds and to see the man making them, who was dressed in a very strange costume. What was going on?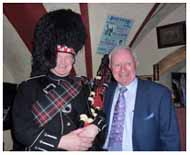 The man was Scotsman Peter Street and he was wearing the full uniform of the Oxford Caledonian Pipes and Drums and playing the bagpipes to welcome guests to the Austro-British Society's bi-annual Burns Supper. Peter flew specially from the UK to add an authentic touch to this year's celebration. The supper celebrates the life and work of Scotland's most famous poet, Robert Burns, and events like this are held annually all over the world.

After welcome drinks in the Diana Bar, the evening began with readings of Burns poetry by

Society President Andrew Milne-Skinner, committee members Isabella Überegger and Erica Frantz, and member Sandra Milne-Skinner.


The supper started with the traditional 'Selkirk Grace' before traditional 'cock-a leekie' soup was served, then the haggis was piped in by Peter and addressed by the President.


The evening continued with readings of Burns' verse and playing of his songs, a reading by member Iain Maclean and a special performance of Scottish airs on the bagpipes by Peter. Over 80 people attended this very successful evening.

Our thanks to the special organising committee who put in so much effort to achieve such a memorable event, and to Peter who gave up his time to travel during a cold winter week to Innsbruck.
Sandra Milne-Skinner

---

We are starting our

Winter Season

on

10th September