Reviews index

March 26th, 2012

Women shouldn't want to compose
An evening of music composed by women, performed by Kristina Cosumano (voice) and Hanno Winder (Guitar).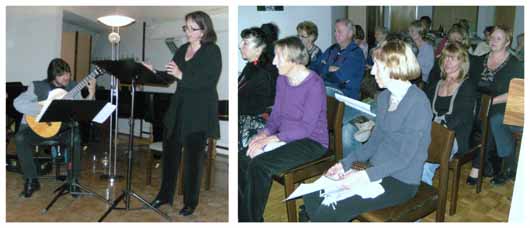 A small but very appreciative company was privileged to attend this concert on 26th March, in the Orgelsaal of the Mozarteum. Kristina and Hanno chose a range of songs dating from the mediaeval period to modern times, and introduced each piece with background information, which greatly added to the enjoyment of the audience.



Summing up in a vote of thanks after the performance, member Sandra Milne-Skinner praised the variety of their programme, the artistes' versatility which enabled them to perform such a wide range of musical styles and the virtuosity with which all the pieces had been performed. We look forward to their next concert for the Austro-British Society – not to be missed!
Sandra Milne-Skinner

---

We are starting our

Winter Season

on

10th September