Reviews index

April 20th, 2012
Dr. Christian Willinger's talk at the Austro-British Society
"The man who was called Chipembele: Shiwa Ngandu and Sir Stewart Gore-Browne"

With his talk about his trip to Zambia and his stay at the "Shiwa House", Christian managed to take us on a journey far beyond the normal holiday and safari slide shows. We were able to learn about the English aristocrat, Sir Stewart Gore-Browne and his dream of building a grand English-style country house. He acquired the estate in the Northern Province of Zambia, about 12 km west of the Tanzam highway and half-way between Mpika and Chinsali. Its name is based on a small lake nearby, Lake Ishiba Ng'andu which in the Bemba language means 'lake of the royal crocodile'. It was the life-long project of Gore-Brown, who fell in love with the country after working on the Anglo-Belgian Boundary Commission determining the border between Rhodesia and the Democratic Republic of Congo.
Also a literary highlight was the reading of the extract from "The Africa House", a novel written by Christina Lamb, which is about the Shiwa House. The book is available in the library of the Austro-British Society.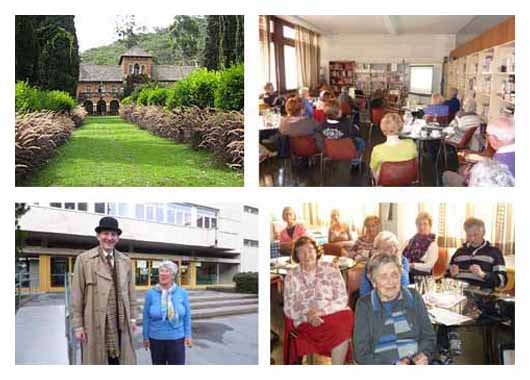 Recently Shiwa House has been partially restored and has opened five rooms for paying guests under the name Shiwa Ngandu Manor House. An airstrip has been built for charter flights. The estate's remote beauty is once more accessible to visitors. The grave of Sir Stewart is at rest in the extraordinary African paradise he created. Lorna and John Harvey's sons have reintroduced wildlife, and established a large cattle ranch. Poaching is under control, and the estate is proving to be a significant source of employment in the area.


Isabella Überegger

---

We are starting our

Winter Season

on

10th September