January 16th 2017
His Excellency, Mr. Leigh Turner visits our Society!

T

he new

British Ambasssador

to Vienna,

His Excellency, Mr. Leigh Turner,

took time from his many commitments to visit the Austrobrits.

H

e was accompanied by 2 members of his staff as well as the

Honary Consul for T

irol,




Mr. Helmut Buchroitner MBE

.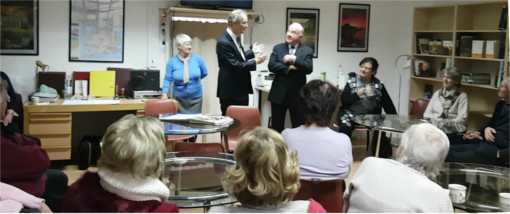 In a relaxed atmosphere he spoke about himself, the various places of his career and what he had been doing in Tirol so far.

Once the floor was opened to questions, the Ambassador said that these may even be personal! The room became quite lively and members didn't want to let this very special guest leave. He had no time for a cup of tea but at least for a piece of "Tiroler Zelten" with "Bergbauern Butter"!
---
Reviews index
------> next review

We are starting our

Winter Season

on

10th September