Austrobrits on tour again
Saturday March 25th-Thursday March 30th

Wednesday March 29th: Manchester in the rain

Our extensive walking tour through Manchester is unfortunately accompanied by some spells of drizzle. But why should we take along our umbrellas and raining outfits without using them? We start at Piccadilly Gardens behind the hotel and

walk on to Ancoats and the Mill District. At the Rochdale Canal, we watch a narrow boat pass through the lock (no computers, all still done by hand) and feed some greedy ducks.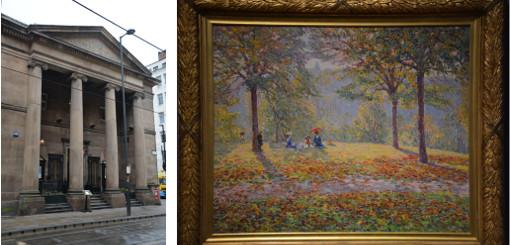 At the Portico Library (now Bank pub!!), we reserve a table for the evening. We then visit Mosley Street with its listed buildings and enter The Art Gallery (Manchester Monet : Wynford Dewhurst) and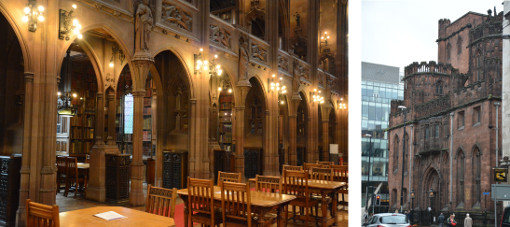 John Ryland's Library (coffees and cappuccinos as well). Despite the rain, the Corn Exchange and the Royal Exchange must be admired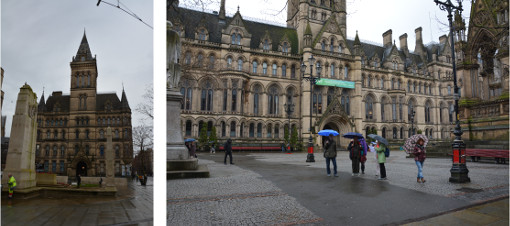 and so are the Town hall and Albert Square.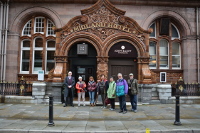 Inside the Midland Hotel (originally near the Midland Railway station) Hazel manages to organize a guided tour by a receptionist (in uniform!) and we see where car salesman Charles Rolls and engineer Henry Royce agreed to go into business.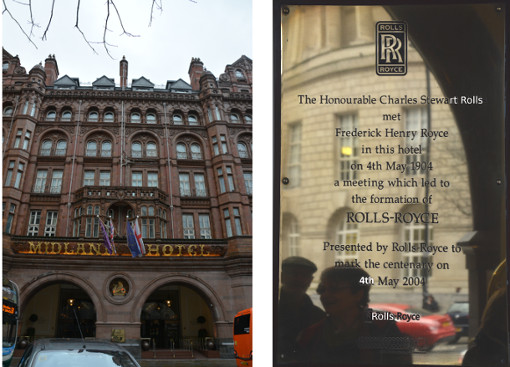 We also get a glimpse at the hidden treasures (staircase with wonderful tiles and even the corridors and passages to the guest rooms.) And all this together with the history of the hotel.

After a very short lunchbreak at a bakery we are expected at the Chetham's Library ( founded 1653), the oldest public library in the English-speaking world,

where Karl Marx met Friedrich Engels for the first time. Now it is a school of music and we could see pupils leave and enter the building in their uniforms.

After a short glimpse at Manchester Cathedral, we felt like visiting another (traditional, but very crowded) pub: The Old Wellington / Sinclair's Oyster Bar.

Refreshed we face the rain and walk back to The Mercure Piccadilly. Some people decide to do some shopping for typical English products ….
The evening is spent at the Portico Library/ Bank Pub, where the ladies' toilet is also a must: So many flowers near the wash basins ….

Thursday March 30th: flight home

Everybody manages to get up early enough, Hazel even gets us the packed breakfasts as they are not waiting at the reception desk (!) and the taxi is on time. We get to the airport and find out the plane (scheduled take-off: 7 a.m.) is a bit late, which gives us time for espressos and cappuccinos. We raise a few eyebrows as we seem to be the only travellers to Innsbruck without skis. Back home (at 10.30, now put the clocks back !!!) all and sundry are already waiting. So we have little time to say THANK YOU, HAZEL, it's been a great excursion. So we do it once again: THANK YOU
------> next review

We are starting our

Winter Season

on

10th September