Reviews index

---
Saturday, June 26th 2010
Following in Ernest Hemingway's footsteps
The young man and the mountains
On a perfect summer Saturday a group of Austrobrits set out to investigate Ernest Hemingway's Silvretta connection. Hazel Zeiner, who had organised the trip, offered prosecco and orange juice to start the day and Andrew Milne-Skinner threw his extensive collection of background material into the fray, distributing extracts from several works of Hemingway that relate to his stays in the Silvretta area and challenging us all to answer a 16-question quiz.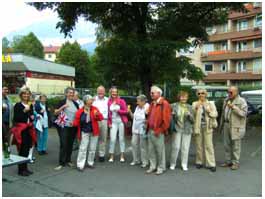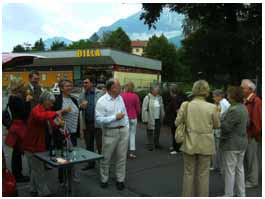 We approached the Silvretta through the Paznaun, stopping off for lunch at the Hotel Rössl in Galtür where Hemingway had downed many a glass of red wine. Galtür also features in his story An Alpine Idyll, a highly misleading title for a tale of the brutal pragmatism of a high mountain peasant, who even found a practical use for the frozen corpse of his wife.
As we rode up to the Silvretta reservoir in the comfortable coach we were at leisure to imagine Hemingway covering the same distance (and altitude differential) on his skis with seal skins attached to the underside. The Madlenerhaus, then of course just by a stream and not below the big dam, was his favourite base for exploring the mountains in the vicinity
.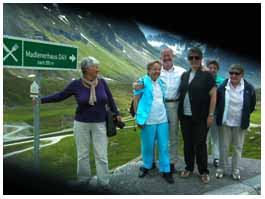 Most of the time Hemingway must have reached it from the Vorarlberg side, starting off in Schruns on a sleigh but covering most of the way on foot. He spent two whole winters in the mid-1920s in Schruns.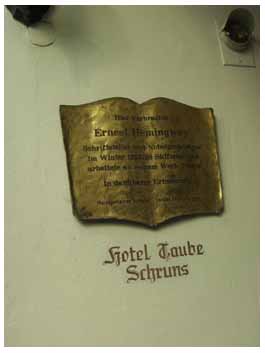 The Hotel Taube, where the Hemingway family stayed, still exists today and the son of Hemingway's host proudly showed us the guest book with the original signature and some photographs. Today it sounds like a luxury holiday, but at the time, accommodation with full board in Schruns was so cheap that the Hemingways could afford it simply by subletting their Paris flat.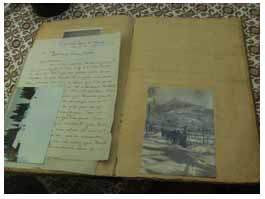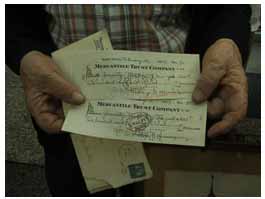 Ironically it was in Schruns that Hemingway reworked his novel Fiesta, not an obvious association with a Vorarlberg winter.
References to those winters can be found in several of his works. His autobiographical texts contain some boastful claims to high-speed descents from glaciers and extreme situations the author found himself in.
The Austrobrits may not have believed all tales of frozen limbs but agreed with Hemingway's praise of the local food. We missed out on the Kirsch that Hemingway seems to have been rather partial to, but on the main square of Schruns a deserted market stall still advertised the concoction today.

On the way home several ideas were aired on possible themes for future excursions. We'll keep you posted!
brigitte scott
---

We are starting our

Winter Season

on

10th September