Reviews index

---
Wednesday, December 15th 2010
A Christmas Carol

An Austro-British Christmas 2010
I've never enjoyed myself at a Christmas Party so much for years! I enjoyed myself tremendously!
Well, what was it that brought forth such comments?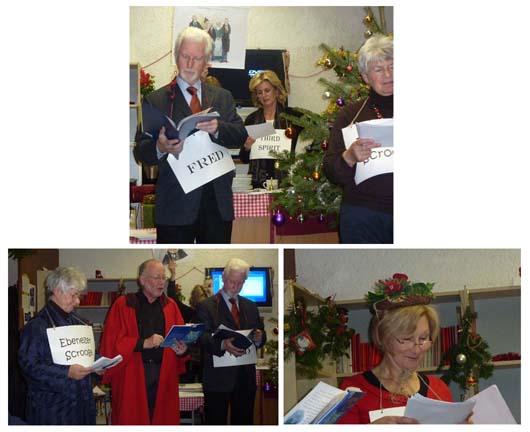 Was it that "brilliant" performance of Charles Dickens' "A Christmas Carol" by the group of well known actors? Or was it the beautiful Christmas tree with those typical electric lights—no candles, and the Christmas cards around the room?

Or maybe it was the food with a Christmas cake taking the place of honour? This cake had been kindly made for the society, by Sandra-Milne Skinner, from a traditional old English recipe.


Or could it finally have been the party games? We now know that there is no "Fasching" in Britain. To make up for this lack of fun, party games and a quiz are a must at any Christmas party. Pass the Parcel will have been quite a lot of work to prepare, but everybody was exhausted by the end of the game. Among such merriment, the "man with the hat and gloves" and the lady ballet dancer brought tears to our eyes.
---

We are starting our

Winter Season

on

10th September