Austrobrits on tour again

Saturday March 25th-Thursday March 30th

Tuesday March 28th: Liverpool and Manchester

The morning is spent on the various libraries and galleries near The Liner (and the station):
St.George's Hall houses luxurious jury rooms and less luxurious cells for the (former) defendants. The new concert venue is not (yet) open to visitors, but the Art Gallery and the Library are. The weather is meanwhile getting less sunny but we are off for Manchester. This time there is no check-in at the platform, but our seats are booked in a carriage.

In Manchester, Hazel's friend, Ian is already waiting and with his help we find the Mercure Piccadilly Hotel. This time, the twin-bed problem is solved by a change of rooms. Afterwards, the tour can start. The tram station is just round the corner but the ticket machine has a curious way of telling us it accepts only payment by credit card (and WITH pin code). Meanwhile, several trams pass by and other passengers claim access to the ticket machine. And Heinz nearly goes mad – not because of the machine but of 7 people trying to work it simultaneously. Finally, Hazel's friend, Ian sacrifices his credit card and even starts paying Hazel back. Not only the ticket machines are confused.



We finally get on a tram and go to Media City. We do not go inside the BBC studios but visit the docks and the The Lowry Art Gallery with paintings by L S Lowry. Then everybody realizes we have not had a lunchbreak yet and so we frequent the cafeteria (tasting espressos and cappuccinos). 6 people go to Castlefield and Deansgate by tram, Karin and Reinhold defy the oncoming bad weather and walk.



During our visit to the Roman ruins and the Deansgate Locks rain sets in. While Heinz, Hazel and her friend Ian are on the lookout for a nice pub, the others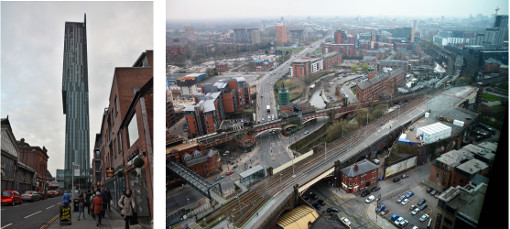 decide to go to the bar on the 23rd floor of the Beetham Tower to enjoy the view (and some drinks). Meanwhile, the threesome left below has found out that the pub on the programme does not serve food after four. So, despite the drizzle, we have to find another one that can still take 8 people. The Knott is our final decision. The food is excellent and the tram station is not far. We say good-bye to Ian and return to the Mercure Piccadilly.
------> next review

We are starting our

Winter Season

on

10th September