Austrobrits on tour again

Saturday March 25th-Thursday March 30th

Monday 27 March: Liverpool and Merseyside


Having returned the 7-seater, we explore the Docks, i.e. especially the Albert Dock.

Then a museum is waiting: the very impressive International Slavery Museum and the Merseyside Maritime Museum in the same building. We spend the rest of the morning there and have lunch in the nearby Pump House Pub (crowded, of course).

In the afternoon we stroll through Liverpool's first streets,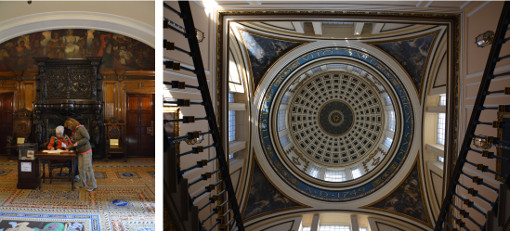 even get inside the Town Hall and discover the Parish Church before safely
reaching the Waterfront, its famous buildings and of course the statues of the Fab Four.

At the harbour, we are told that 2:30 is NOT the same as "before 4."
So we have some coffees, teas or ice-creams before Hazel gets the tickets and the Ferry Tour across the Mersey can start.
On the way home, we explore St. John's Square and, feeling too exhausted for further walks, opt for a pub near the Liner: The North-Western, i.e. the former station restaurant. There we meet Hazel's cousin Barbara, who has come to see her (and us).
------> next review

We are starting our

Winter Season

on

10th September