Austrobrits on tour again

Saturday March 25th-Thursday March 30th

Saturday March 25th: Liverpool


On Saturday mornings access to the departure section at Innsbruck Airport is closed for private cars but NOT for the AB president's, of course.

At 9 a.m. sharp, all 7 travellers are present and can happily join the queues to board the plane. We do so (after the final Austrian cappuccinos and espressos) and realize we all sit more or less next to each other except for Heide, who booked a little later.

At 10:25 Thomas Cook Airlines take off and safely land at Manchester Airport at 11.40 (12.40 for those who refuse to put the clock backward.)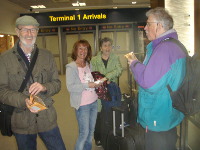 During the waiting time for luggage reclaim we are entertained by Reinhold showing us Michael Niavarani at (item NOT included in the original programme, but appreciated nevertheless).
Finally, when everybody is equipped with pounds, comes point 1 of the official programme:

We buy our lunches to be eaten on the train to Liverpool. The platform is easily found, but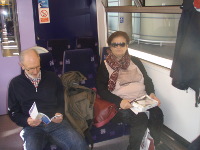 access proves difficult as the tickets are on Hazel's mobile and the system only allows individual entry.

During the train ride, we are all enjoying our lunches and start studying Rupert's guides on Manchester and Liverpool.

Our hotel (The Liner) is next to Liverpool Lime Street and does look like a liner. Quick check-in and after Hazel has got the staff's promise to settle the single blanket problems in the double rooms, comes point 2 of the day's programme: our pub crawling tour of Liverpool.



The Crown Hotel is first: a listed building and like The Vines (almost next door) has a great interior worth photographing. Both pubs are packed to overflow but we get all sorts of invitations to join the parties. Yet no time to stay: the next item is waiting.
It is the Catholic Cathedral - no pub – therefore less crowded. We enjoy the magnificent view of the city before heading for

Rodney and Hope Streets, their beautiful Georgian houses, Liverpool's first school (Bluecoats) and another crowded pub:
The Phil(harmonic Pub) opposite the Philharmonic Hall. Here all gentlemen have to go to the toilet - to photograph the marble urinals, of course.



Our next item is the Chinese Arch, the largest of its kind outside China. After intensive picture-taking we feel like a break and find a nice unlisted pub. Unfortunately, its coffee machine breaks down after Rupert's coffee and so everybody else has to stay with more traditional pub drinks.

Yet the visit is of course not finished yet: The Cavern Pub and The Cavern Club are waiting in Mathew Street.We also discovered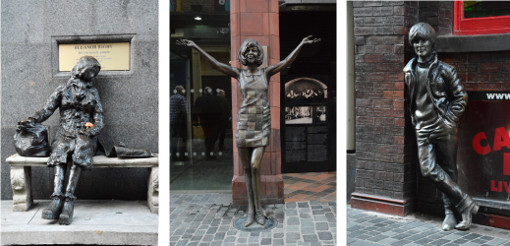 the statues of Eleanor Rigby, Cilla Black and John Lennon

Back at the hotel, the solution to the blanket problem is waiting: one extra blanket and one extra sheet. As our extensive walking tour has left its consequences on our legs, we decide to have dinner at the hotel restaurant. It is possible only after some waiting (for the theatre goers to finish eating) and an extra 20 minutes (!) to set a table for seven people. Nevertheless, we all enjoy the dinner on a hard day's night ….

------> next review

We are starting our

Winter Season

on

10th September